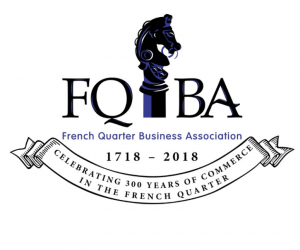 The French Quarter has been in the business of trade and commerce since 1718 when Jean-Baptiste Le Moyne de Bienville and French Mississippi Company landed on the riverbend. The French Quarter Business Association is proud to be apart of that commercial history and dedicated to its continuation. In honor of the Tricentennial, the French Quarter Business Association will showcase some of the businesses who are apart of that history throughout the year.
Bevolo Gas & Electric Lights

What year was your comp any established?
1945
How long have you been located in the French Quarter?
1945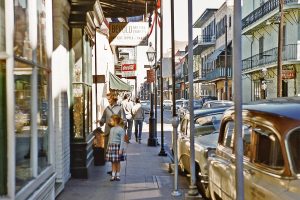 Why have you chosen to remain in the French Quarter?
Everywhere you turn there are people using their hands to do something they love. Whether it is painting, cooking, playing music, or hand riveting copper lanterns, this is a place where craftsmanship and creativity are always in concert. Most importantly, we were born in the French Quarter & our Vieux Carre lights have become an iconic symbol of New Orleans – gracing the most notable hotels, bars, restaurants, and historic properties. The French Quarter is our home!
What does it mean to be a French Quarter business?
Being a French Quarter business means you are small part of a something that is so much bigger than yourself. Each of the businesses in the French Quarter has its own uniqueness that together creates a destination for visitors from all over the world. The culture, history, food, music, and of course the soft glow of the gas lights creates an ambience that is truly one of a kind.
Describe in what ways the French Quarter has affected your business over the years.
The French Quarter creates a unique situation for us. People are drawn to our city in part for the ambience that the city has, and the gas lights have become synonymous with that feeling and with this city. When people stumble across one of our stores and realize that we are the ones that made all those gas lights there is no need for branding or a sales pitch, they're genuinely excited to learn about & take home a piece of New Orleans history. We have been fortunate to expand our business over the years & now have 4 unique showrooms in the heart of the French Quarter, including our new Bevolo Lighting Museum!
Do you have an interesting or funny story about being located the French Quarter?
One day an architect, well before becoming world renowned, named A. Hays Town was walking through the streets of the French Quarter. He heard the tapping of our hammers and stuck his head in the door. He asked my great grandfather "Hey, can you make a light?" Andrew Bevolo Sr. responded confidently "if you can draw it, I can make it." That night they made what is now known as the Original French Quarter light seen throughout the French Quarter, in all 50 states, and 47 countries worldwide.
For more information visit Bevolo.com.