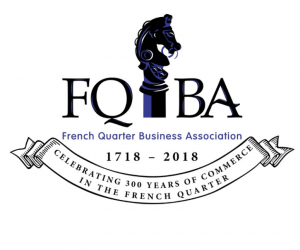 The French Quarter has been in the business of trade and commerce since 1718 when Jean-Baptiste Le Moyne de Bienville and French Mississippi Company landed on the riverbend. The French Quarter Business Association is proud to be apart of that commercial history and dedicated to its continuation. In honor of the Tricentennial, the French Quarter Business Association will showcase some of the businesses who are apart of that history throughout the year.
Broussard's



What year was your company established?
Creole Cuisine Restaurant Concepts was established in 1989, Broussard's became a part of the family in 2013. Broussard's has been in operation since 1920.
How long have you been located in the French Quarter?
Broussard's has been in operation in the French Quarter since 1920.
What does it mean to be a French Quarter business?
…The French Quarter is not just a series of businesses, but a neighborhood as well. It has its own culture and its important that we pay tribute to that. I believe being a business in the French Quarter means offering a degree of service and hospitality that visitors can not experience elsewhere. A part of that is making sure that visitors are exposed to aspects of authentic New Orleans culture and history.
Describe in what ways the French Quarter has affected your business over the years.
The French Quarter can be among the densest areas of visitor attendance in the country. Every business whose interest is their guests' happiness benefits from this because we are an area defined by hospitality, which is what draws so many people to our City…
Do you have an interesting or funny story about being located the French Quarter?
Funny stories in the French Quarter are best told in the company of friends and family, over a cocktail.
Answers submitted by Sandy Gomez, Digital Marketing Manager. To learn more about the Broussard's visit www.Broussards.com.