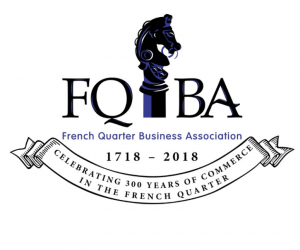 The French Quarter has been in the business of trade and commerce since 1718 when Jean-Baptiste Le Moyne de Bienville and French Mississippi Company landed on the riverbend. The French Quarter Business Association is proud to be apart of that commercial history and dedicated to its continuation. In honor of the Tricentennial, the French Quarter Business Association will showcase some of the businesses who are apart of that history throughout the year.
Deuce McAllister's Ole Saint Kitchen and Tap

What year was your company established?
Deuce McAllister's Ole Saint Kitchen & Tap has been at 132 Royal Street since December 2013.
Why have you chosen to remain in the French Quarter?
We have chosen to remain in the French Quarter because we are a local company that loves New Orleans and the French Quarter. Deuce McAllister, a former [New Orleans] Saint, has made New Orleans his home and has ingrained himself into the fabric of the City – besides owning this business along with the Ballard Brothers (who are also New Orleans fixtures with their parents having owned a music business in the [French] Quarter as children), he's now one of the voices of the [New Orleans] Saints on WWL radio and has been a fixture in the [French] Quarter and New Orleans for over 15 years.
What does it mean to be a French Quarter business?
Being a French Quarter business means that we are a part of the oldest, most meaningful section of our fine City. It means that we are part of the magic that every visitor experiences when they visit the [French] Quarter, and what their memories are comprised of when they leave. It means we are New Orleans.
Describe in what ways the French Quarter has affected your business over the years.
Being a fixture in the French Quarter has been a blessing for us, as the [French] Quarter is such a vibrant, always-on-the-go part of New Orleans. The lure, the attraction of the goings-on in the [French] Quarter have blessed us with a great business flow as well as a deep appreciation of what it means to be part of something as special as the area we are lucky to enough to call our home base.
Do you have an interesting or funny story about being located the French Quarter?
There really are so many instances that it would be hard to pick just one – whether it be French Quarter Fest, Decadence, Mardi Gras, Jazz Fest, or one of the other hundreds of incredible events that happen in and around the French Quarter, there's never a lack of excitement and the unexpected now morphs into the expected on a daily basis!! What a grand place to do business – again, a blessing.
To learn more about Deuce McAllister's Ole Saint Kitchen and Tap visit  www.olesaint.com.