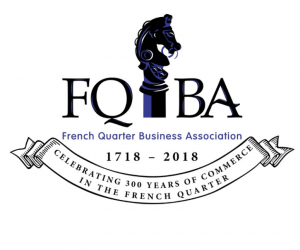 The French Quarter has been in the business of trade and commerce since 1718 when Jean-Baptiste Le Moyne de Bienville and French Mississippi Company landed on the riverbend. The French Quarter Business Association is proud to be apart of that commercial history and dedicated to its continuation. In honor of the Tricentennial, the French Quarter Business Association will showcase some of the businesses who are apart of that history throughout the year.
G L-f de Villiers Tours 
What year was your comp any established?
G L-f de Villiers Tours was established in 2012. I have been guiding [tours] since 1989.
How long have you been located in the French Quarter?
Our company was born in the bar of the New Orleans Athletic Club over five years ago and has been headquartered on Bourbon Street ever since.
Why have you chosen to remain in the French Quarter?
Mostly out of a reluctance to cross Canal Street and a keen appreciation for the lifestyle of the Vieux Carre.
What does it mean to be a French Quarter business?
It means being part of the very heart and soul of the unique culture that is New Orleans. It, also, demands that one be both a bearer and a defender of that culture.
Describe in what ways the French Quarter has affected your business over the years.
Many of our walking tours are in the French Quarter. No matter how much or how many times we walk these streets, it is never dull!
Do you have an interesting or funny story about being located the French Quarter?
A guest insisted that the climax of the original Ghostbusters movie was filmed in Manhattan and demanded to know why I thought otherwise! I was able to tell her, "Because I watched it being shot from right here where we are standing on Chartres Street."
I have funnier stories. But, those are going into the memoirs.
For more information visit glfdevilliers.com.