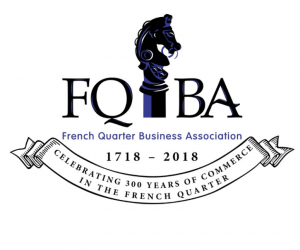 The French Quarter has been in the business of trade and commerce since 1718 when Jean-Baptiste Le Moyne de Bienville and French Mississippi Company landed on the riverbend. The French Quarter Business Association is proud to be apart of that commercial history and dedicated to its continuation. In honor of the Tricentennial, the French Quarter Business Association will showcase some of the businesses who are apart of that history throughout the year.
Galatoire's Restaurant
What year was your comp any established?
1905
How long have you been located in the French Quarter?
Since establishment in 1905
Why have you chosen to remain in the French Quarter?
The French Quarter represents the classic New Orleans experience as shown by the numerous hotels, restaurants and businesses currently operating in the area that opened many years ago. Many of these businesses have changed little and continue to operate the way they have for decades thanks to the French Quarter's commitment to the city's culture and heritage. Galatoire's was born in the French Quarter and has subsequently become a New Orleans dining icon, in part because of its commitment to quality and service, but also due to the supportive environment the neighborhood provides businesses. It wouldn't feel right for Galatoire's to be anywhere else in the city.
What does it mean to be a French Quarter business?
It means we are a part of one of the oldest, most unique neighborhoods in the country.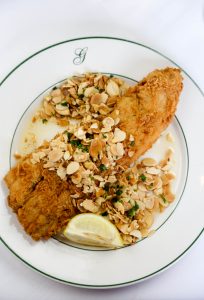 Describe in what ways the French Quarter has affected your business over the years.
The French Quarter is one of New Orleans' most prolific tourist areas with millions of tourists visiting each year who, in total, spend billions of dollars at the businesses residing there. Additionally, businesses in the French Quarter benefit from one another as hotels, boutiques and restaurants give recommendations to their patrons for where they should visit, shop and dine. Locals also know the French Quarter is home to some of the city's best restaurants, so Galatoire's in particular, benefits from being located in a well-established, centrally located neighborhood. The French Quarter charm adds to the experience of dining at Galatoire's and we believe our restaurant, in turn, adds a bit of charm to the quarter.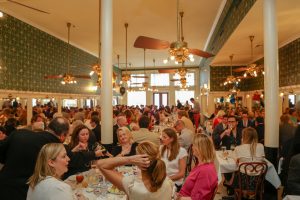 Do you have an interesting or funny story about being located the French Quarter?
For decades, outside of our Bourbon Street restaurant, people will camp out for hours (rain/shine; cold/hot) for a table at Galatoire's coveted Friday lunch. It's truly remarkable, and something that you can only witness by being in the heart of the French Quarter.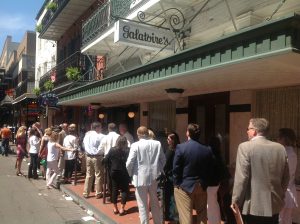 For more information visit Galatoires.com.