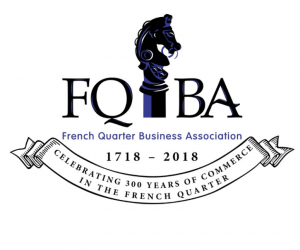 The French Quarter has been in the business of trade and commerce since 1718 when Jean-Baptiste Le Moyne de Bienville and French Mississippi Company landed on the riverbend. The French Quarter Business Association is proud to be apart of that commercial history and dedicated to its continuation. In honor of the Tricentennial, the French Quarter Business Association will showcase some of the businesses who are apart of that history throughout the year.
Harrah's New Orleans



What year was your company established?
Harrah's New Orleans opened in October 1999.
How long have you been located in the French Quarter?
19 years.
Why have you chosen to remain in the French Quarter?
New Orleans is one of the world's most unique cities and a top tourism destination. We are honored and privileged to be a part of the cultural and entertainment fabric of this great city.
What does it mean to be a French Quarter business?
Harrah's New Orleans is part of a larger network of casinos owned by Caesars Entertainment. Caesars Entertainment has 37 properties all over the United States, but Harrah's New Orleans is one of the few destination properties! When we talk about our casino to potential guests, our location is what we talk about first long before we talk about what the casino has to offer. The culture in the French Quarter, from the live music to incredible food and festivals are what makes us a destination property and the reason why guests want to visit us and continue to come back each time. We try to do our part to be a good neighbor and support the area around us from hosting our free Miracle on Fulton Street celebration each year, supporting French Quarter Festival and also area restaurants. We spend any average of $3 million each year sending our guests to partner restaurants not on our property (and the majority of those are in the French Quarter).
Describe in what ways the French Quarter has affected your business over the years.
The French Quarter continues to revitalize and our neighbors around us change with more and more world renowned brands moving in. As we continue to grow and change though, the small businesses and the restaurants that have existed for hundreds of years are not forgotten because those businesses are what makes the French Quarter the wonderful place that it is!
To learn more about the Harrahs's New Orleans visit www.caesars.com/harrahs-new-orleans.