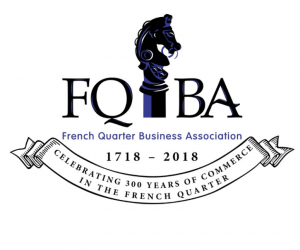 The French Quarter has been in the business of trade and commerce since 1718 when Jean-Baptiste Le Moyne de Bienville and French Mississippi Company landed on the riverbend. The French Quarter Business Association is proud to be apart of that commercial history and dedicated to its continuation. In honor of the Tricentennial, the French Quarter Business Association will showcase some of the businesses who are apart of that history throughout the year.
Royal Carriages

What year was your comp any established?
1941.
How long have you been located in the French Quarter?
Seventy-seven years.
Why have you chosen to remain in the French Quarter?
There is no other place we'd rather be! We've been at the forefront of tourism in New Orleans for over 70 years, and it's all because of the history and businesses that the French Quarter offers our visitors and residents.
What does it mean to be a French Quarter business?
It means that we working amongst some of the oldest businesses in the city, and in the nation. We support one another's businesses in countless ways all while providing the visitors to the city with an unforgettable amazing experience, and adding a lovely ambiance to the residents' daily lives.
Describe in what ways the French Quarter has affected your business over the years.
As stated previously, the French Quarter's popularity amongst travelers has brought a diverse range of clients from all walks of life into our gallery. In many ways it has shaped the way we view the objects we offer. Being in such a historical neighborhood tends to put history into a new prospective. Our upcoming exhibition, Vice & Virtue: An Exhibition of Sex, Saints and Sin, explores the dichotomy between the pious and the scandalous in the context of the city's own colorful history of observance and indulgence.
Do you have an interesting or funny story about being located the French Quarter?
New Orleans' famed French Quarter is unpredictable, which is sometimes hard to manage, but this very reason is why our neighborhood/district is unique and thriving.
To learn more about Royal Carriages visit  www.neworleanscarriages.com.