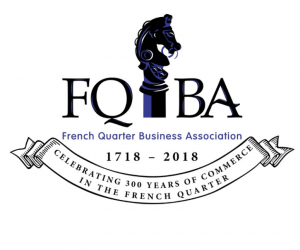 The French Quarter has been in the business of trade and commerce since 1718 when Jean-Baptiste Le Moyne de Bienville and French Mississippi Company landed on the riverbend. The French Quarter Business Association is proud to be apart of that commercial history and dedicated to its continuation. In honor of the Tricentennial, the French Quarter Business Association will showcase some of the businesses who are apart of that history throughout the year.
Royal Sonesta New Orleans

What year was your comp any established?
1969
How long have you been located in the French Quarter?
Since the hotel's opening on September 11, 1969.
Why have you chosen to remain in the French Quarter?
We've called the 300 block of Bourbon Street our home since the hotel's opening in 1969. Our historical site has been home to Crescent City staples, such as the American Brewing Company, which closed in 1962, and Bourbon Street's first-ever nightclub, Maxime's.
What does it mean to be a French Quarter business?
The hotel's personality thrives on the spirit of the French Quarter. As the oldest neighborhood in the city, Royal Sonesta New Orleans is proud to be a part of such a renowned and lively corridor of the Big Easy.
Describe in what ways the French Quarter has affected your business over the years.
Because we're the only luxury hotel on Bourbon Street, we have guests visit from all throughout the world to experience authentic New Orleans hospitality while being footsteps away from one of the world's most renowned streets. Visitors not only like to stay in our guest rooms, but also enjoy live jazz music at The Jazz Playhouse, dine on authentic Louisiana cuisine at Desire Oyster Bar and experience unbeatable fine dining at Restaurant R'evolution. There's something for everyone at Royal Sonesta New Orleans.
Do you have an interesting or funny story about being located the French Quarter?
One of our greatest traditions and events is our annual Greasing of the Poles, held every Friday before Fat Tuesday. What began as a practical means to deter overzealous revelers from shimmying up to the coveted balcony space is now, almost 50 years later, a star-studded and music-filled event that draws crowds from all over the world. Considered by many to be the official kickoff to Mardi Gras weekend, the public gathers at the main entrance of the hotel to view the Carnival spectacle each year.
For more information visit.