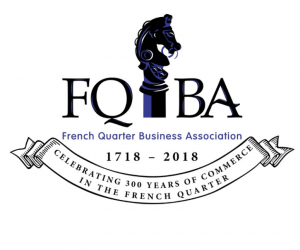 The French Quarter has been in the business of trade and commerce since 1718 when Jean-Baptiste Le Moyne de Bienville and French Mississippi Company landed on the riverbend. The French Quarter Business Association is proud to be apart of that commercial history and dedicated to its continuation. In honor of the Tricentennial, the French Quarter Business Association will showcase some of the businesses who are apart of that history throughout the year.
Scene by Rhys



What year was your company established?
2015. [I started] as a public business website showcasing my life and work as an artist working with musicians live in New Orleans music venues, several in the [French] Quarter such as Preservation Hall and Palm Court Jazz Cafe.
How long have you been located in the French Quarter?
Since 2016, as a public art gallery; since 2011 as an artist (with a year-long stint living and working in the French Quarter back in 1977, during which time I was a Jackson Square artist, and created a mural inside the historic "Skyscraper" building at 638 Royal).
Why have you chosen to remain in the French Quarter?
First off, it is where my father (artist Noel Rockmore) spent most of the last two-thirds of his life and thus where I stayed for decades when I visited him until he passed in 1995. Secondly, it is an incredibly beautiful neighborhood, filled with an extraordinary variety of architecture, people, and businesses…all this attracted me right away upon [my] return in 2011. In addition, its history as a convergence spot for artists and musicians (and other cultural bearers) and locals and tourists alike keeps it alive as an authentic neighborhood.
What does it mean to be a French Quarter business?
It means to be part of a very creative and human-scaled individualistic community. Though not all the businesses here are small, by any means, they tend to be friendly and run by intriguing people who present and/or sell items unavailable elsewhere, or that are of historic and artistic value. Its beauty and history make it a magnet, bringing a constant influx of people from all over the City and indeed, the world. [It] makes for an exciting prospect: who will walk in to my gallery today and discover my art?
Describe in what ways the French Quarter has affected your business over the years.
When I was ready to open my art gallery, I didn't think twice about where in town to locate it. [It] had to be the [French] Quarter. First, it has a wildly vibrant street life. Second, it has a reputation for the arts – visual and musical, so people are aware they'll be finding art galleries and music here, and they enjoy discovering my art gallery because the work on display combines the two artistic disciplines!
Do you have an interesting or funny story about being located the French Quarter?
My art studio/home are located four blocks away from my art gallery, and when I step out of my door on Orleans [Street], I see every day the backside of St Louis Cathedral. To me it is the most magical view in New Orleans and I photograph it often. Every time I notice a variation of lighting or weather conditions such as fog or rain, out comes the camera. And I consider the stretch of Bourbon Street between St. Ann and Toulouse [Streets] my "Main Street". Fritzel's is one of my "homes", so too is Preservation Hall. As I walk the street, many faces are familiar to me, the…atmosphere links me directly to my father, who spent time with circuses and lived for a time in Coney Island NY just before heading to [New Orleans] in 1959.
Answers submitted by Emilie Rhys. To learn more about the Scene by Rhys visit www.ScenebyRhys.com.