ROAD CLOSURE NOTICE – BEST DAMN RACE NEW ORLEANS
SUNDAY MARCH 26, 2017
EVENT INFORMATION:
The Best Damn Race New Orleans Half Marathon & 5K will start and finish on Rampart St. The races begin at 7:30am and finish by 11:00am. Road closures will be begin between 7:00am-7:30am.
DOWNLOAD THE WAZE APP TO AVOID ROAD CLOSURES.
Download the FREE Waze navigation app on your smart phone to help avoid road closures. Type Waze in your app store or visit waze.com for more info.
REGIONAL TRANSIT AUTHORITY (RTA)
St. Charles Streetcar service may be impacted on race morning form 4am-12pm. We hope to have more information on this soon.
FOR MORE INFORMATION
Contact tehm directly for more information on the race or help with alternate directions at info@bestdamnrace.com
ROAD CLOSURES AND ALTERNATE ROUTES SUNDAY MARCH  26, 2017
Roads will reopen as last participant passes and course materials are moved.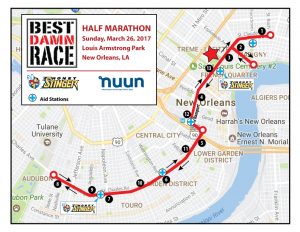 START ZONE
West Bound (North Side) of Rampart from St. Ann St. to Dumaine St. from  4:00am to 11:45am
ZONE A (MILES 1,2,3,13)
Louis Armstrong Park (Rampart St. from Entrance of Park to St. Roch)
FULL ROAD CLOSURES From 7:00am to 9:00am
ZONE B (MILES 10,11,12,4,5,6)
St. Charles Ave (East of Louisiana Ave to Louis Armstrong Park)
FULL ROAD CLOSURES From 7:15am to 11:00am
ZONE C (MILES 10,7,9,8)
St. Charles Ave (Audubon Park to Louisiana Ave)
FULL ROAD CLOSURES From 7:15am to 10:20am