At 6pm tonight, March 17th, the Downtown Irish Parade will roll through the French Quarter.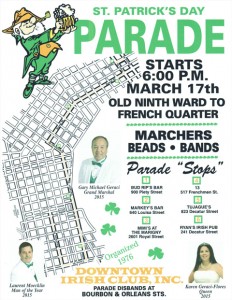 On Saturday, March 19th starting at 6 p.m., the St. Joseph's Day Parade will begin at Canal and Chartres Streets.
On Sunday, March 20th, FOX television network will broadcast a live musical production titled "The Passion." The broadcast will begin with a procession through Downtown New Orleans and the French Quarter from 7:20 p.m. until 8:40 p.m. and end with a live stage show at Woldenberg Park.
There will be no hard street closures, only rolling closures (approximately 15 minutes in length).
The cross processional is expected to have 1,000 people.
The live stage show at Woldenberg Park, featuring Seal and Trisha Yearwood, is expected to attract 12,000 people.
There will also be two cross processional rehearsals with approximately 150 people each. The first processional rehearsal will be on Friday, March 18th from 7:00 p.m. until 9:00 p.m. and the second on Sunday, March 20th from 2:00 p.m. until 4 p.m. Click here for the route.